In Alsace you will meet unmatched serenity, beauty, hospitality and, not the least, some of the World's best white wines. Alsace-Wine.net is your guide to wine touring in Alsace by foot, by bike and by car.
Alsace offers charming wines of great quality and unmatched diversity. In the medieval Alsatian villages with their narrow, cobblestone alleys you will meet dedicated producers on terroirs tended by their forefathers since generations.
Enjoy reading about the great Alsace grape varieties Riesling, Gewurztraminer, Pinot Gris and Muscat, as well as Sylvaner, Auxerrois and Klevener d'Heiligenstein. Learn more about the Alsace Grand Cru system, AOC rules, viticulture and the terroirs of Alsace.
Alsace-Wine.net presents several dozens of Alsace producers, many of which are up-and-coming, who all will love to welcome you on their premises.
Bon voyage!


Order my book: Guide to Alsace Wines
The English version of my Guide to Alsace Wines was publsihed in 2016. The Swedish edition has sold over 2000 copies, and it has been selected as the best book in its category by the Swedish Gastronomic Academy. Guide to Alsace Wines presents the region, producers and villages in Alsace in a compact and informed way. It is constantly updated.
Click here to place your order!. Click here to read a sample.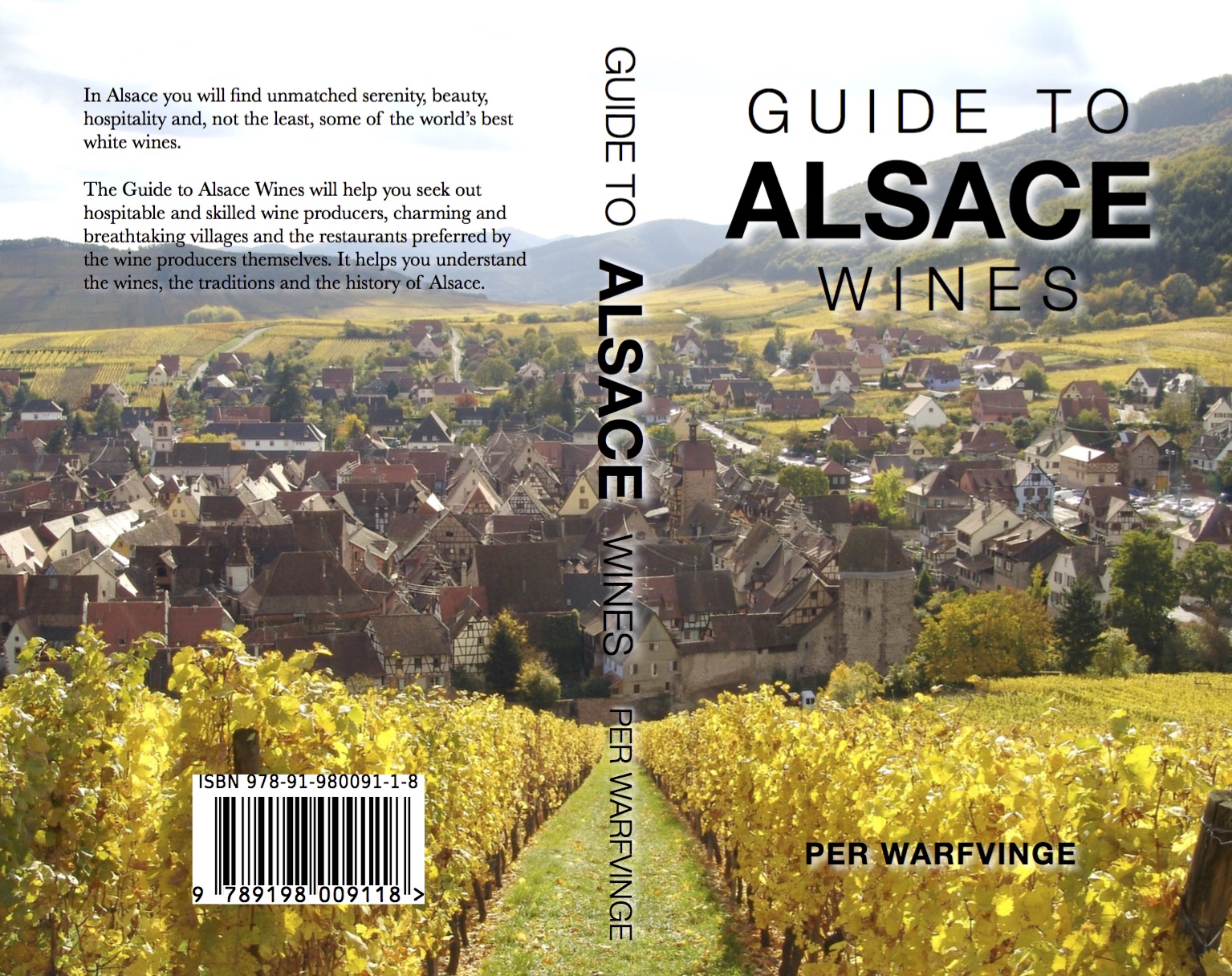 Harvest 2016
Early summer, 2016 was heading for disaster. The first six months brough more than an average year's ranfall. Mildew was spreading, and the growers were spraying. Many projected yet another vintage with low volumes. The last thing the reagion would need after small crops in 2010, 2012, 2013, 2014 and 2015.
To add to the worries, August was very dry and warm and especially Riesling started to suffer from hydrological stree, delaying the ripening. But in September some rain came and the weather became more stable. Cloudy, cool but good. There was no gray rot, nor any botrytis.
The harvest lasted for a good month and ended by 1 November. The grapes were perfect with moderate sugar level and great complexity. No selecetion was needed. The volume was up by a third as compared to 2015. We will get especially good Pinots.
Wine of the Week
Crémant Brut Prestige, Zuzslin Do not worry - Crémant can be cellared! This very bottle has rested for four years (purchased in 2013) and presumably made of grapes from 2010. But as for Champagne, the conditions are of course that the basic wine is of high class and that the bottle has spent at least two years sur lattes, which is the second the fermentation when the bubbles are formed. Crémant Brut Prestige from Zusslin in Orschwihr is just as good as you can expect from this top class producer. The aroma is complex of chocolate, walnuts, grilled apple skins and chalk. The taste has a lot of volume, with lovely maturation tones, pure and fine fruit and brilliant acidity that gives the crémant backbone and balance. The only remark: A bottles is emtied to fast! Price: € 14.
Best-buys the summer/fall of 2017 for €11 and below
2016 Côte d'Ammerschwihr, Maurice Schoech (Ammerschwihr) for €6.50.
2015 Sylvaner, Bernhard (Katzenthal) for €5.50.
2014 Pinot Blanc, Agapé (Riquewihr) for €7.40.
2015 Riesling Muhlforst, Stoeffler (Barr) for €10.40
2014 Gewurztraminer Les Roches, Gruss (Eguisheim) for €10.20.
2014 Pinot Gris Vieilles Vignes, Bruno Sorg (Eguisheim) for €10.
2014 Muscat, Mader (Eguisheim) for €7.30
2015 Pinot Noir, Schoenheitz (Wihr-au-Val) for €9.90
Crémant Réflets, J-B Buecher (Wettolsheim) for €10
Good places to stay
If you want a charming appartment, perfectly located in Riquewihr with a private courtyard: Gite l'Oriel.
If you want to stay in a small village with a wine growing family, in the heart of alsace: Domaine Jean-Marc Bernhard.
Search
© Per Warfvinge, Dalby, Sweden. Swedish version:
Click here