In Alsace you will meet unmatched serenity, beauty, hospitality and, not the least, some of the World's best white wines. Alsace-Wine.net is your guide to wine touring in Alsace by foot, by bike and by car.
Alsace offers charming wines of great quality and unmatched diversity. In the medieval Alsatian villages with their narrow, cobblestone alleys you will meet dedicated producers on terroirs tended by their forefathers since generations.
Enjoy reading about the great Alsace grape varieties Riesling, Gewurztraminer, Pinot Gris and Muscat, as well as Sylvaner, Auxerrois and Klevener d'Heiligenstein. Learn more about the Alsace Grand Cru system, AOC rules, viticulture and the terroirs of Alsace.
Alsace-Wine.net presents several dozens of Alsace producers, many of which are up-and-coming, who all will love to welcome you on their premises.
Bon voyage!


Order my book: Guide to Alsace Wines
The English version of my Guide to Alsace Wines was publsihed in 2016. The Swedish edition has sold over 2000 copies, and it has been selected as the best book in its category by the Swedish Gastronomic Academy. Guide to Alsace Wines presents the region, producers and villages in Alsace in a compact and informed way. It is constantly updated.
Click here to place your order!. Click here to read a sample.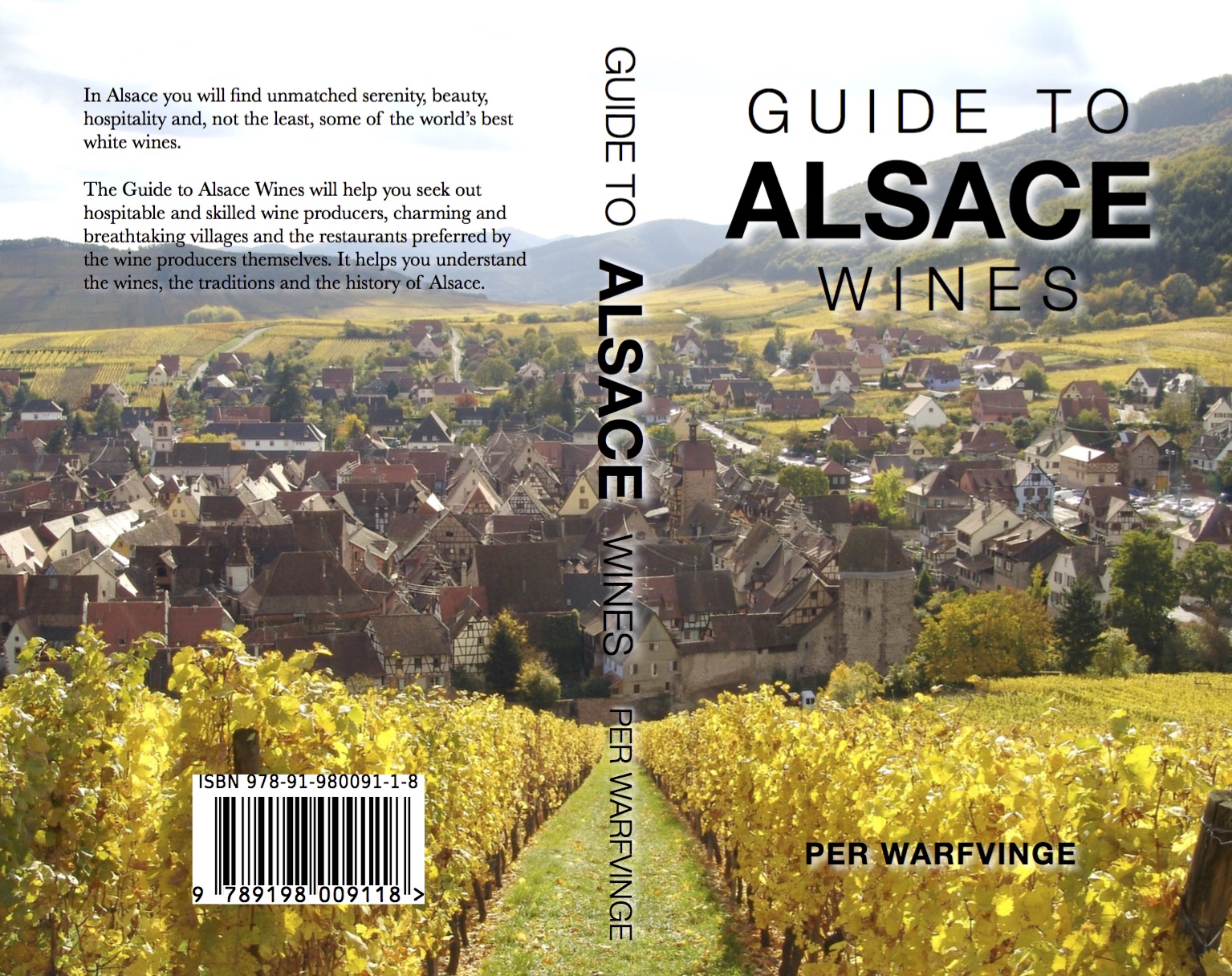 Harvest 2017
The growing season 2017 was extremely irregular. The cultivars went into the year with low water reservoirs, and warmth in March boosted the growths. However, in early May, icy winds swept down into the valleys with severe frost damage as a result, especially on Gewurztraminer. To make things worse, hail came soon afterwards. Fortunately, the flowering was very good, even though it was unusually early. The summer was not extremely hot, but dry. Terroroirs on granite with predominantly Riesling lacked water, but all Pinot grapes are very promising.
The harvest has started with stable but cool weather. The wines will be as full as the 2015 but with significantly better acidity. The producers are very optimistic, despite the loss of volume.
Wine of the Week
2015 Pinot Gris Frohenenberg, Gruss There is a trend to make completely dry Pinot Gris, entirely from Grands Crus and preferably with some elevage in fat vats. However, while these wines are interesting and complex, it may be nice to go back to basics and drink a classic, semi-dry Pinot Gris of high quality. If you choose a wine from an extremely serious one - do I dare say pedantic? - producer and a cool location, it can not go wrong.
2015 Pinot Gris Frohenenberg from Gruss in Eguisheim has a straw yellow color and supple texture. The scent is youthful and fresh, with ginger, mango, fresh apricots and almond. The flavor is rich but not heavy, with a sweet sweetness, which is more than matched up by beautiful acidity and a sense of tannins that creates tension and balance. Very nice! Price: € 9.20.
Best-buys the summer/fall of 2017 for €11 and below
2016 Côte d'Ammerschwihr, Maurice Schoech (Ammerschwihr) for €6.50.
2015 Sylvaner, Bernhard (Katzenthal) for €5.50.
2014 Pinot Blanc, Agapé (Riquewihr) for €7.40.
2015 Riesling Muhlforst, Stoeffler (Barr) for €10.40
2014 Gewurztraminer Les Roches, Gruss (Eguisheim) for €10.20.
2014 Pinot Gris Vieilles Vignes, Bruno Sorg (Eguisheim) for €10.
2014 Muscat, Mader (Eguisheim) for €7.30
2015 Pinot Noir, Schoenheitz (Wihr-au-Val) for €9.90
Crémant Réflets, J-B Buecher (Wettolsheim) for €10
Good places to stay
If you want a charming appartment, perfectly located in Riquewihr with a private courtyard: Gite l'Oriel.
If you want to stay in a small village with a wine growing family, in the heart of alsace: Domaine Jean-Marc Bernhard.
Search
© Per Warfvinge, Dalby, Sweden. Swedish version:
Click here